There is a grandfather who once told his grandson, that everyone has three opportunities in their life who always want to show who they are.
The first chance, when someone is too young to notice. The second opportunity is when a person is burdened with family responsibilities and is afraid to do new things. The third opportunity is when the person is too old and realizes that it is too late.
In terms of finance, is there no opportunity to get new income? Very likely. But, unfortunately only a few people know and realize it. It is not surprising that employees panic and feel stressed when suddenly laid off or workers demonstrate because the company terminated their contracts. Neither employees nor laborers had time to seek new income while still working as employees.
Individuals who have planned for the future and prepared themselves when they lose their jobs, of course, have prepared and developed other sources of income. So that when he gets laid off by the layoff program, loses his job or decides to retire early , he doesn't panic. Instead, focus on new activities with a fund income that is equivalent to the old salary or even better.
Here are 11 clever strategies that will help you become that individual:
1. Do not rush to resign from the old job before there is a replacement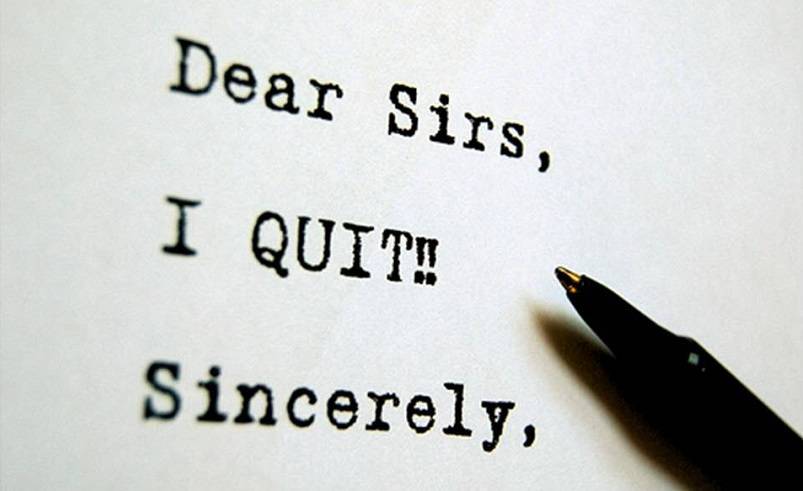 Resign via enkivillage.com
Do not rush out of your old job before getting a steady income or enough savings for a few months after resigning. It's okay for you to dream of owning your own business and deciding not to become an employee. While still an employee, start generating regular income gradually, one by one until an alternative income can be equal to or greater than the monthly salary in your current position.
2. Identify Your Skills
Find out what specific skills and talents you have. Then do some research on making money from these skills. For example, being a freelance worker , becoming a web designer, opening a laundry service, or so on.
Here is a case study. A successful mortgage underwriting expert had concerns about his industry during the crisis in 2008. However, he is also a skilled pianist. He decided to use his piano skills as a regular or weekly source of income.
He began teaching piano lessons at night at music school and weekends. Teaching keyboard classes for children as well as accepting private students. After the income from teaching this course showed satisfactory results, he decided to make a second income, establishing a music studio.
After earning two incomes from courses and studios, he began stepping down from an underwriting position. Next focus on promoting piano playing skills in child care centers during the day.
Eventually he started a large-scale day care business recruiting two other music teachers. In addition to maintaining the studio. His ability was recognized by the church, so he was recruited as the church music director.
Imagine, 1 talent 3 income. From courses, studios and churches. At the same time, the housing market continues to stretch. He decided to freelance work as an underwriter for two small mortgage companies. You can copy it.

3. Acquiring New Skills
Doing business online today is something that is in great demand and seems to make a lot of money. There are so many ways to make money online.
For example taking some online courses such as web or graphic design at night after work or reading some SEO tips to start with your own online business and website.
A career in the web is very wide open. You may discover some new skills that are worth developing. Check on the internet, and compare between the skills you already have, which you will master and the opportunities and potential for earning money in the very large online world. You can set up your own business by offering services that you are good at or you become a freelance worker.
4. Define Your Market
If you have a product (s), who are the buyers? This part is to find potential customers as quickly and cheaply as possible. Do your own research, offer your product to the market and how to respond. If many like it, you can get rich from that field. If you are an employee, it is time for you to resign and focus on the business.
5. Market Your Service or Product
This is perhaps the most difficult endeavor. If you have a skill or product and it will be sold in the local market, you must meet potential customers to offer that skill or product. However, if you are looking for consumers online, your activity will be very different. If you are not an online marketing specialist or expert, it is high time you need help from a professional. The investment value is adjusted according to the agreement. If you have some expertise and time, you can imitate the ways of those who are already successful by looking at marketing strategies or doing business online.
6. Managing blogs, websites and social media
Is your business on a local scale or on a wider scale? You need these things. On a local level, you can spend a fortune placing ads in email marketing or getting slots on a number of radios.
You can distribute flyers and place an ad on Craigslist or an advertising site. Can use local advertising sites. If you are unsure about how to start a blog, study the tutorial for starting a blog and making it a farm of money.
7. Embrace the Power of the Network (Network)
Join a network of local business organizations or the Chamber of Commerce. You can develop and develop contacts with business owners and set schedules for synergy.
Members in this group come from all types of businesses, organizations and companies. When their customers are looking for what you have to offer, they will refer to you. Of course, you will do the same for them.
8. Regulate Both Active and Passive Income Streams
In a day only consists of 24 hours. If you're only working on one job, you're only developing one or two monthly income streams. But you can develop passive income. For example, investing in a safe and top-up investment system. For example, investing in property, buying a house or apartment. Apart from having assets in the form of a house or apartment, you can get passive income if the house or apartment is rented out.
9. Cooperation with Others
Use the experience of those who have the ability to generate additional income for you. Learn how they got started with the strategy and how they created passive income over time.
Do you need further guidance? There are many mentors and business coaches available online in this current era. Make sure you have read reviews about them or talked to someone using their services.
10. Do not be afraid to ask
Asking customers during referral sessions, for testimonials, and acting as references for potential customers or clients are important ways to improve the quality of your product. Customers who are satisfied with your service will try to be loyal and are usually happy to spread the advantages of your product to other people, who can potentially become your new customers.
11. Sell Ads on Your Blog or Website
When you gain popularity on social media and through blogs and websites, you can get income from advertisements placed on your blog or website. The size of the ad depends on the size and distribution period of the loading on your blog and website.
Currently, there are some very popular bloggers who have a profitable income from the advertisements posted on their blogs. You can get advertisements directly from clients, or through ad management services companies. The more popular your online or social media account is, the more people will want to advertise on your blog and website and build long-term partnerships.ś

Maximize Your Abilities
Apart from the above, there are many other ways to create income. Start with the things you love, pursue and master the field that you have chosen. Everything will feel more new income. The key is a willingness to do it if we like it. The same is true when you are looking for ways to create new income for your life. So whatever you choose to do and do it with your heart.