Android is a storehouse of quality games. You can find almost all types of games on Android, from puzzle games to adventure games. These various games present very interesting and challenging games.
The game methods that it presents are also very diverse. If in the past we could only play games alone on our cellphones, now we can play them together with other players around the world.
Yes, online games have now become the most popular games on Android. This online game will connect us with millions of other players around the world. We can compare scores, compete one on one, or compete with many players at once in a game.
So, this time, 
we
 will review the list of the most popular Android online games in the world that you can try to play right now. 
These games offer 
a wide variety of 
gameplay
 and 
genres
 , from 
strategy games
 to 
simulation games
 .
1. Mobile Legend
Maybe some of you are familiar with this Android online game. Is a Mobile Legend that offers a game where you can fight as a team, 5 vs 5. That way, of course, you must have a strong team with a precise strategy.
Not only that, this game, which has been downloaded by more than 4 million downloaders, also offers easy control by using a  virtual joystick  on the left and right. So, you can easily fight against your enemy with this  virtual joystick
If you want to play it too, you can directly download it here. 
2. PUBG MOBILE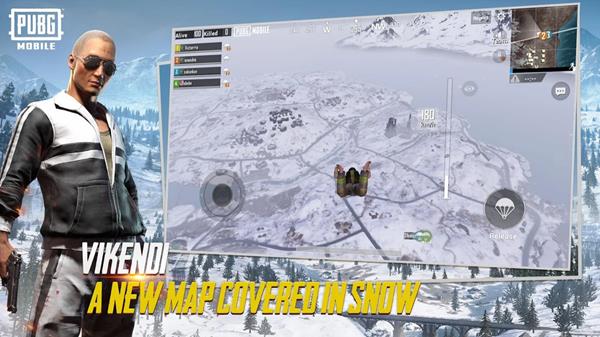 Who doesn't know this one strategy game? Currently,  PUBG MOBILE is one of the most popular games and quite a few are fond of playing this game. How not, in this game you will be thrown into an unknown place to survive.
In your adventure, only one player can succeed in PUBG MOBILE. So, make sure you have the right strategy to kill other PUBG MOBILE players. Use your weapon, don't let your guard down, kill or be killed? Want to play too? Download it  here .
3. Garena Free Fire
If you are looking for an alternative to the PUBG Mobile game, this game called Free Fire also offers the same  gameplay and excitement.
You can download this game for free on the Google Play Store or via this link . In the Free Fire game, you will be faced with the experience of surviving against 49 other people.
Just like PUBG Mobile, here too, you will be included in a team consisting of 4 members. And, if you want fiercer and shorter battles, there's a Clash Squad mode that lets you fight 4v4 against other teams. Interesting right?
4. HAGO
The HAGO game  can be said to be a relaxing game, because the games in HAGO are indeed light and not too serious like PUBG MOBILE earlier. But the fun thing is, in HAGO you can chat with other HAGO players. Not only through  chatting,  but you can also chat via  voice call. 
games, such as goat fighting, brain fighting, knife throwing, and many more. You can also invite HAGO players to duel, and see if you are good at it? Prove it by playing the game here.
5. Lords Mobile
If you want to play online games on Android then don't miss this one game. Is Lords Mobile, here the players will get the task to fight monsters and other enemies. Lords Mobile also allows players to explore  magical islands. 
Another feature in Lords Mobile, you can invite other players to be in the same alliance with you and build a kingdom together. Also, Lords Mobile provides a variety of strong heroes to destroy all your enemies. If you are interested in playing it, you can download it here.
6. Crisis Action
For gamers who like to play war games, maybe Crisis Action can be the best choice for the most popular Android Online Games. Crisis Action is an online game that offers a camera with a first-person perspective or FPS.
This game presents a game where you have to save yourself. You can shoot every enemy there. Apart from presenting a tense action game, the  developer  of Crisis Action also added several supporting features such as a variety of gameplay that you can choose from. You can choose 8 gameplay that has been provided. Curious to know what the gameplay is like? Play Crisis Action here.
7. Garena AOV
Not too different from Mobile Legend, Garena AOV is also an online game that you can play on Android-based phones. Garena AOV is a renewal of the Mobile Arena. In the game, Garena AOV offers 5 against 5 battles. So, here you can play in groups with your friends to fight other groups.
Another advantage presented by Garena AOV is releasing a new hero every week. So, you will not get bored with the Hero who is just that. In fact, Garena AOV claims that the game has HD graphics quality, you know. Want to play Garena AOV? You can immediately get the game by clicking here.
8. Clash of Clans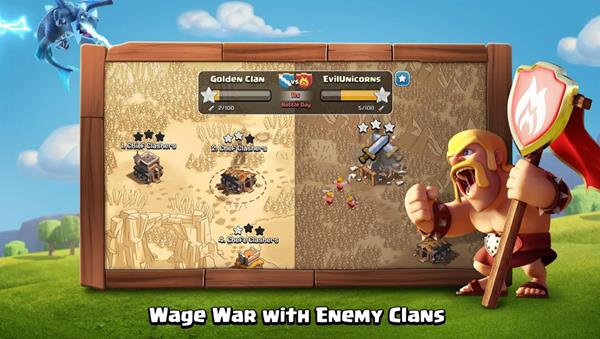 One of the most popular online games today is of course Clash of Clans . Not only abroad, this game is also very loved by Android users in Indonesia. In fact, it is so popular that recently a dangdut song has appeared which alludes to this game.
Clash of Clans itself is a game that tells about battles between clans. In this game we have to build a village and armed forces ready to attack enemy territory. We also have to prepare a strong defense because our base can be attacked by them at any time.
What makes this game so popular is its multiplayer system. Yes, in this game we can attack other players' bases or bases. We can also form a clan to then jointly attack other clans.
This game can be downloaded for free via the Google Play Store . There are also several items that you can buy with real money through the in-app purchase system. Of course, this game also requires a stable internet connection to play it smoothly.
9. Clash Royale
Clash Royale has the same creators as Clash of Clans. In one of the most popular Android online games, players are asked to collect cards. The cards that you have successfully collected can be used to attack your enemies.
You are also asked to make a defense or what is called a  battle deck  to fight and avoid enemy attacks. He exclaimed, this Clash Royale can choose who your opponent is ready to beat.
So you can duel your friends to determine who is the strongest player in Clash Royale. If you can win the fight, then you can get an  award  or a prize that is certainly profitable for you. Intrigued by the prize? Download and play Clash Royale  here.
10. Brawl Stars
This game made by  Supercell's developer  can also be the best online  game choice  . The reason is, this game is also quite exciting where players can fight 3 on 3 with other Brawl Stars players. Here, you have to collect strength using  Brawlers. Besides that, you can also improve the  abilities  of your game character, of course, by winning battles.
But, if you are getting bored of fighting, then Brawl Stars provides a place for the gathering of Brawl Stars players, namely  Club. Well, in  this club  you can chat with fellow players, to exchange tips for playing Brawl Stars. Very exciting,  right ? Come on, immediately play the game  here.
In addition to the ten best Android online games discussed above, we also have some recommendations for other popular online games for Android devices. Here's the complete list:
11. Heroes Evolved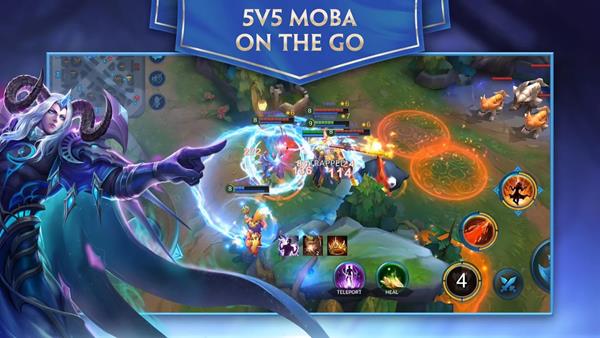 For you lovers of fighting games, Heroes Evolved can be the best solution for you. The reason is, the game that has been downloaded by more than 200,000 times offers a battle  game  with unique heroes. In the game, you can choose from more than 40 heroes that are available in Heroes Evolved, including Bruce Lee.
Not only the kung fu master, you can also choose a fantasy hero character with amazing magic power. Besides presenting an exciting fight, Heroes Evolved also offers clan facilities where you can form a group with your friends.
No need to worry about language problems, the article Heroes Evolved is available in various languages ​​including Indonesian. Download it here.
12. Clash of Kings
From the name it carries, you might think of this game as a clone of Clash of Clans. Yes, Clash of Kings does carry the same genre as the game made by Supercell, but the theme it carries is a little different.
In this Clash of Kings game, you have to create an empire while controlling 7 fantasy worlds. You have to form a strong army and a strong base so you can attack other players' kingdoms and survive enemy attacks.
In this game you can also form alliances with other players and then attack other alliances. You can play this game for free by downloading it via the Google Play Store here .
13. Brawlhalla
After gaining considerable popularity from Steam users on PC, Brawlhalla is now presented for Android. This game is shown for those of you who like fighting games  in the style of Super Smash Bros, or fighting  games  packed with  platformers .
Here you can do  push rank to explore the top list, either one on one or two against two. What makes this game quite unique is that it features a cross-play  feature  so that you will not only meet Android players but also players on PC, PlayStation 4, Xbox One, and Nintendo Switch .
Besides presenting 8 player battles at once, Brawlhalla also provides a variety of other interesting modes such as Brawl Ball, Capture The Flag, and many other modes.
Interestingly, Brawlhalla presents complete game features without you having to pay a penny! There is also no  microtransaction in this game, so you can enjoy the game without worrying that your opponent has a  certain advantage over the payment of the item he does.
There are at least 41 playable characters, and each of these characters has its own class. It is up to you to decide what style of play you want to use. So, want to try the fun of Brawlhalla? Download the game now via this link !
14. Air Combat OL
Anyone would really like war games in the air. With a fighter plane, we will attack and avoid enemy attacks. Air Combat OL is a very challenging game, where you have to control a fighter plane to avoid enemy attacks from the front, the sides and the back.
This one game really requires the agility of the players. The aircraft that you control is also equipped with a complete arsenal and anti-missile that is on board. This online game is very exciting and challenging. In fact, you can forget the time when you are playing this one game.
15. Ludo King
This online game does not offer war games or strategy games like MOBAs. Ludo King, a classic game that is presented in digital form. This is a fun game and quite popular right now.
In the game, you will be asked to collect the seeds into the box in the middle. He exclaimed, Ludo King can be played online with friends. What's most interesting is when you and your friend knock each other over seeds to get back to the  start. Let's play Ludo King  here.
So, those are the most popular Android online games that you can play today. These games are perfect for filling your spare time from boredom. From the list above, which game do you like the most?